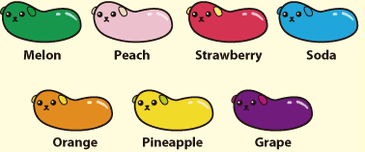 Jelly Bean is a group of Mameshiba. There are seven Jelly Beans total, each with a unique color and flavor. They made their commercial debut in Mameshiba 10. Their fact is,  "Koala's appendix is about 2 meters long"
Orange (self-explanatory)
Like Chili Bean, these Mamesiba appear in another country than Japan. They appear in America.
The Jelly Beans don't speak Japanese very well, as heard in their commercial.