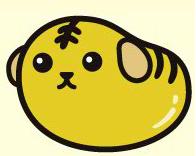 .
Tiger Bean is known to be a bit self-centered, as well as rambunctious. He also forgets to return borrowed items.
Appearances
Edit
Tiger Bean first appeared in Episode of the Mameshiba Shorts, when two women were eating dinner.
Tiger Bean also has a plush form and a keychain version as well.
There is a Babyshiba form of Tiger Bean. It is known to play the trumpet.
Tiger Bean's fact is "A canary that can't sing will never find a mate."